Wellllll Howdy, Gents and Judies! What a fantastic Friday we've had today!
I had many a 5th grade friend that were super sleepy this morning and I must admit, I was too- all for one very worthy reason...
#BBN this morning...amirite? It was worth it to witness THIS
The Giver by Lois Lowry
CliffsNotes HERE




Number the Stars by Lois Lowry
SparkNotes HERE




Harry Potter and the Sorcerer's Stone by J.K. Rowling

LANGUAGE ARTS:
LEARNING TARGET
: I CAN identify the big ideas/ most important details to SUMMARIZE a text.
We began by reading a passage from our Benchmark series about "The Pharaohs of Ancient Egypt." We used it to identify the big ideas and then used those big ideas to write a summary, which has been our practice for the entire week. I then gave the students a quiz over our reading and discussion (an exit slip) and some were better listeners/ participants than others (these will be coming home today). We then used our summary organizer to go from the medium summary to an even smaller summary.
HOMEWORK: read through YOUR Final Four books from YOUR bracket for Book Madness (HINT: in the spirit of summarizations, you will be having to write a synopsis about YOUR top 4 books in class on Thursday before we vote on the class Final 4).
MATH:
LEARNING TARGET:
I CAN rename fraction differences.
Students turned in their renaming fraction practice pages.
HOMEWORK
: none (weekend)
SCIENCE:
HOMEWORK
: test over cells is MONDAY, March 30th
SOCIAL STUDIES:
Students took their assessment over Chapter 6, lesson 3.
HOMEWORK: none
RELIGION:
The kiddos went over play lines, readings, and practice with Mrs. Schleg.
HOMEWORK: memorize lines and practice readings
We also had
4-H Club
meeting today with Mrs. Priest! Students learned about their upcoming speeches they will be giving. They practiced some speaking aloud speech tips and even practiced with enunciating by using tongue twisters.
THIS
is the world's hardest tongue twister as dubbed by researchers from the Massachusetts Institute of Technology (MIT). Click
HERE
,
HERE
, and
HERE
for more science behind why it and other tongue twisters are so tough...they're quite interesting!
Have a fabulous Friday and a wondrous weekend! Can you believe we'll know our NCAA Final 4 by Sunday night?!? Ahhhhhh! PUMPED.
Smiles,
Mrs. Thomas
P.S., Stations of the Cross PLAY is NEXT Friday, April 3rd at 1PM! Please make plans to attend :)
4th/5th Grade "Racing to Read" Contest:
A little background...
Mrs. Schleg and I were standing in the hallway Wednesday morning as we usually do, greeting students. We were observing the wall in between our doors and realized we needed an update and wanted to do something FUN/ interactive for the kiddos, but also incorporate content. Thus, "Racing to Read" was born. We decided to include the 4th grade as we compete to see which class can read the most minutes between now and Derby. Students are encouraged to read, read, read and log those minutes for each week!
isn't it sooo cute?!? Mrs. Tobe did such a wonderful job! There are still a few additions she'll be adding, but our horses are off and running. Look at poor "Harry Trotter" in last place :(
Sigh,
Week ONE:
4th and 5th grade kicked off their Racing to Read contest at Monarch Downs! Here are the results from this week (March 23, 2015 - March 27, 2015):
AND THEY'RE OFF!!
We raced out of the gate at full speed, let's see how long we can hold this momentum.
This week's race results"
4th place: 5T with 3,170
3rd place: 4Y with 3,355
2nd place: 4R with 4,731
1st place: 5S with 4,857
Ummmm, we're in last place. Yiiiiiiikes. NO BUENO. We only had FOURTEEN kids log their minutes!!!! No siree, that just. will. NOT. do. Let's step. it. UP. people. Step it up!!!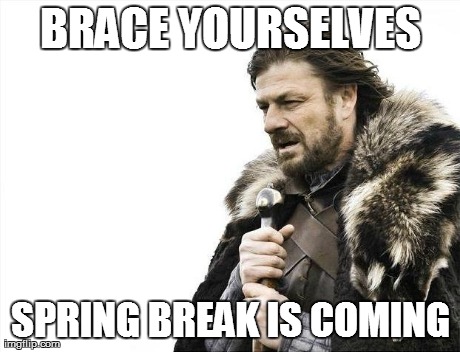 Spring Break officially begins ONE WEEK from today!
Daxter Miles...you mad bro?!?
We see you, Notre Dame. We. see. YOU.